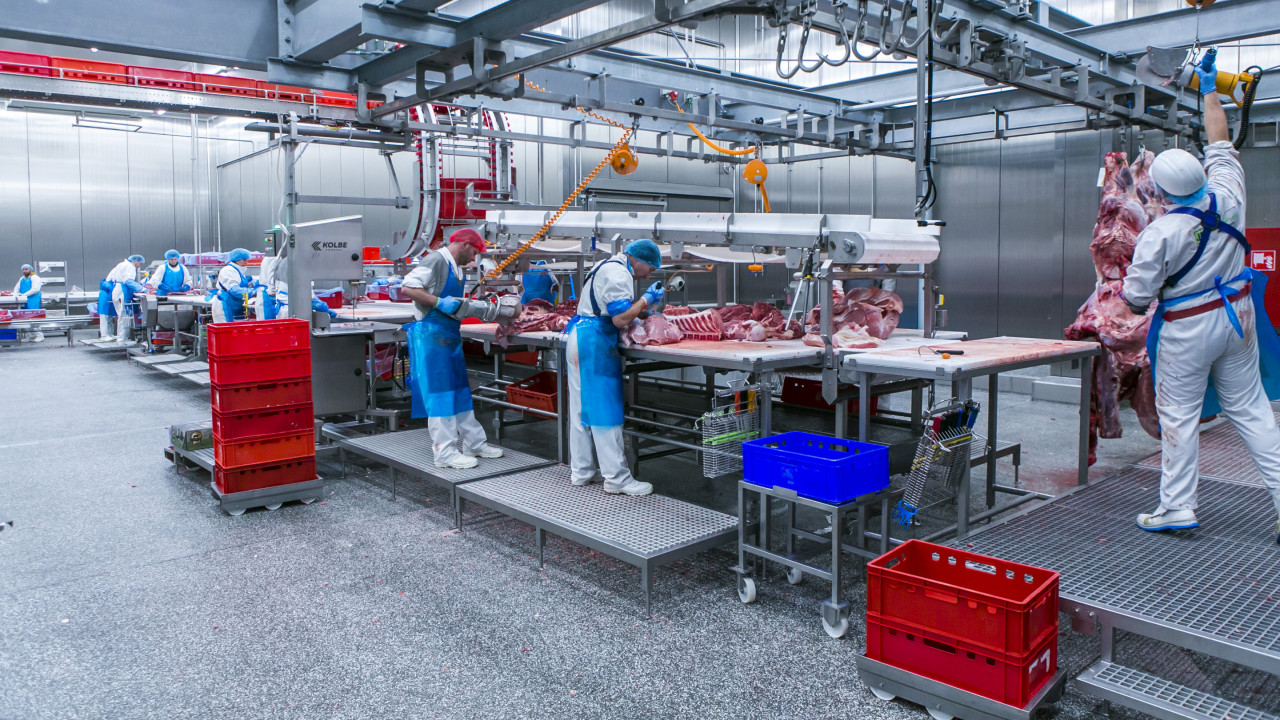 Meat industry
A hygienic, wear-resistant and anti-slip floor in the right place!
In the meat industry, the right industrial floor that meets all quality requirements is essential for companies operating in the meat industry, where it is all about hygiene, food safety and anti-slip. Therefore, the industrial floor in, for example, a slaughterhouse, must meet the requirements of food safety, hygiene, durability and be resistant to the influences of the residual and by-products created during slaughter. The industrial floor must be especially hygienic and low in bacteria. At the Ruys Groep, we respond to this demand by realizing a seamless, correctly sloping floor finish in combination with seamless floor connections to the wall protection and drainage system.
The challenge for an industrial floor in the meat industry
Various processes take place in the meat industry, which means that industrial floors in this sector must meet a variety of requirements. The work in this industry is harsh and intensively rough on the floors. The Ruys Groep has the knowledge to address these requirements and challenges and provide you with the proper flooring advice.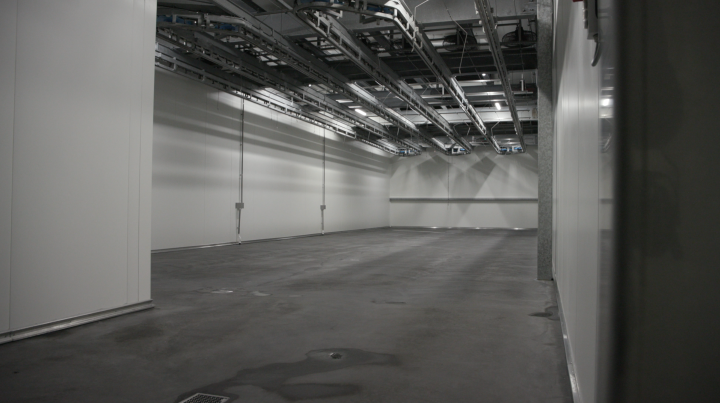 Humid conditions in the meat industry
Employees in meat processing plants work in humid conditions as the work floor is wet for a large part of the time. To reduce the risk of industrial accidents due to slippery floors, anti-slip flooring is very important and in many cases mandatory in the meat processing industry.

Also, good drainage with matching floor sloping is a must to properly dispose of slaughter residues and other dirty liquids to create a hygienic, puddle-free floor. Ruys Groep's industrial floors are permanently anti-slip and wear-resistant, despite the intensive stress placed on them by production and cleaning processes.

In addition, we provide a perfect, seamless connection to the drainage and wall protection systems. This prevents bacteria, slaughter residues, blood, fatty acids, proteins and other substances from accumulating in cracks or holes.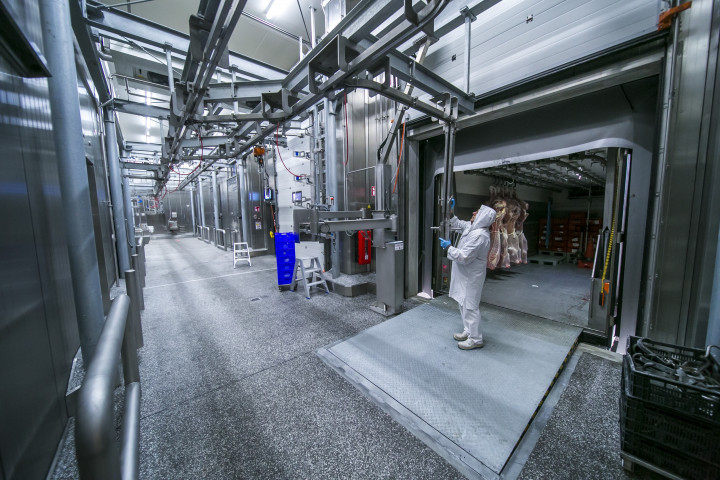 The corrosive liquids in the meat industry
In the processing and packaging of meat, various corrosive liquids are released such as blood, fatty acids and proteins. In many cases, these end up on the floor, resulting in an aggressive deposit build up on the industrial floor. This can damage the industrial floor. Our floors are resistant to these corrosive liquids, which means that your industrial floor will last for years.
The strain of thermal shocks and aggressive cleaning agents
In meat industry, the processing work is often carried out under low temperatures, after which the industrial floors are cleaned in many cases with hot water, detergents, high-pressure cleaners and chemicals. A quality industrial floor will therefore also need to be able to withstand these thermal shocks and assaults by chemical cleaning agents. Ruys Groep's industrial floors meet these requirements! Our floors have a life span of more than 30 years with relatively low maintenance. Purchasing a new industrial floor from the Ruys Groep is a sustainable investment that will certainly pay off.
Our floors meet the hygiene requirements of the meat industry
Industrial floors in the meat industry must meet increasingly stringent hygiene and food-safety requirements. In virtually no other industry have quality, control systems and standards been introduced on such a large scale as in the meat industry. Meat processing companies therefore work on the basis of HACCP and/or other specific hygiene codes. The Ruys Group's floors have been approved and meet all the applicable safety requirements: HACCP, USDDA, EEC guidelines and BCR. Our industrial floors also comply with BREEAM certification.
The subsectors where our industrial floors are best suited.
Flooring for the meat industry can be installed in various types of companies:
Abattoirs
Cutting plants
Meat processing plants
Sausage factories
Meat factories
Animal feed
Intestinal processing plants
Meat replacement producers
The most commonly laid floors in the meat industry