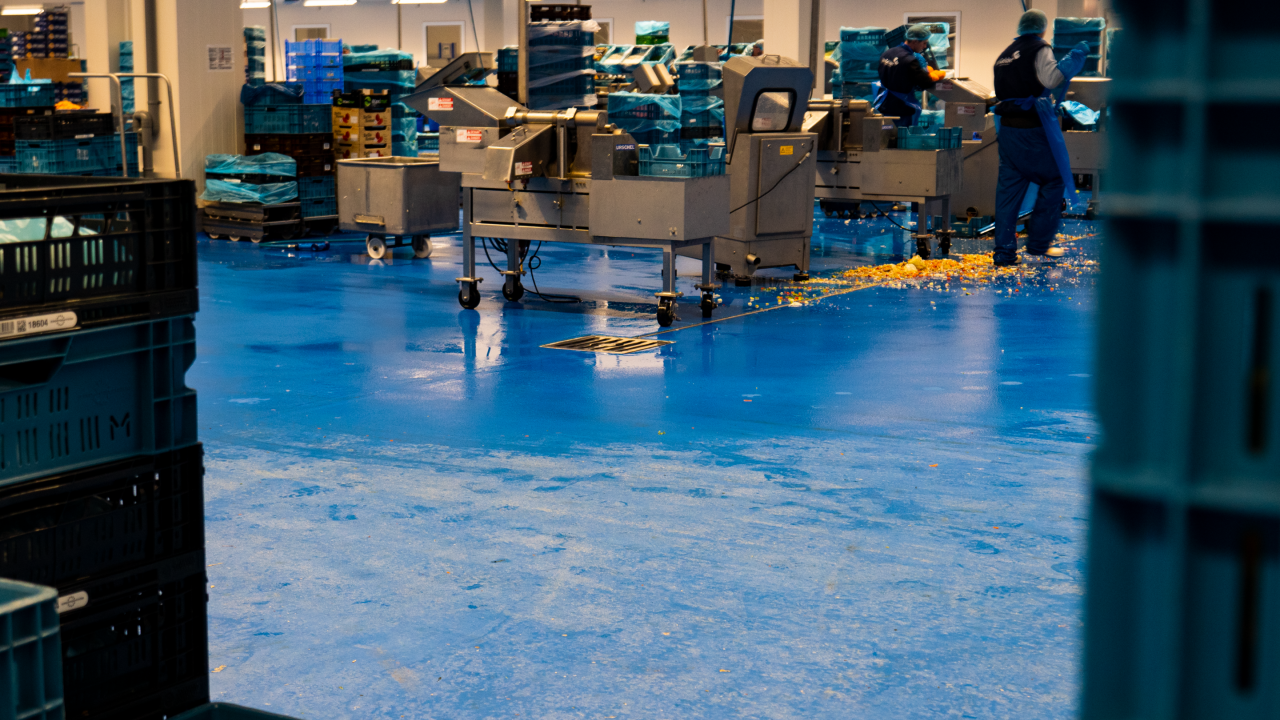 AGF Industry
hygienic and safe floors resistant to aggressive juices
Food safety plays an essential role in the AGF industry (fresh produce/fruits and vegetables industry). For this reason, good hygiene is an indispensable element when evaluating an industrial floor to be installed in this sector. But, distinctive to this industry are the aggressive juices released during processing and the mechanical loads caused by internal transport traffic which significantly impact the floor. Because the Ruys Groep has already installed industrial floors for many companies working in the AGF sector, the Ruys Groep has accumulated a lot of experience regarding the requirements unique to this sector.
The challenges for a floor in the AGF sector
The food safety requirements inherent in the processing of fruits and vegetables present several challenges for the optimalization of an industrial floor in this sector. At Ruys Groep, we understand these challenges and can recommend the perfect flooring solution.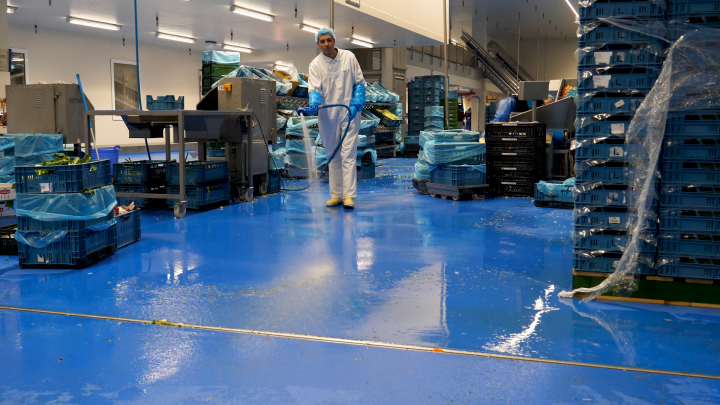 Food safety in the AGF. 
As food safety is an important issue for this industry, the floor must be kept hygienic at all times. The floor must be easy to clean and the residual products of potatoes, fruits and vegetables must not be able to collect in hidden holes, crevices or seams, for example. For this reason, the Ruys Groep also offers drainage and wall protection systems which can be seamlessly integrated with the desired industrial floor system.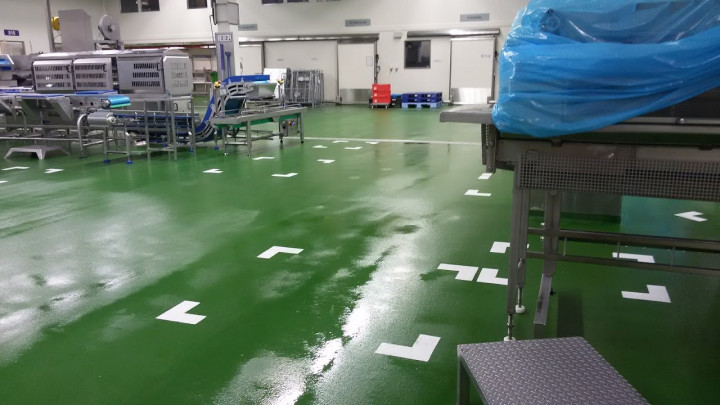 Resistant to aggressive substances
Some fruit and vegetables (for example, carrot, peppers, pineapples and oranges) produce aggressive juices that affect the longevity of the floor. In addition, the AGF industry uses chemical cleaning agents daily to ensure food safety requirements. These cleaning agents can quickly damage a floor. At the Ruys Groep, we have experience in laying industrial floors that are exceptionally strong and are unaffected by aggressive juices and chemical cleaning agents. In addition, our floors are known for having long life spans, as from 20 to 40 years!
The slipping hazard in the AGF industry
In the AGF industry, the traffic is intense on the floors in the form of, for example, employees, forklifts, pallet trucks and the movement of heavy objects. It is vital that this traffic can move about safely. However, there is a risk of the floor becoming slippery as juices, pulp, cleaning water and other liquid substances often end up on the floor. For this reason, a rough and wear-resistant industrial floor is indispensable. Ruys Groep offers a strong, non-slip floor to reduce the risk of slipping and to ensure safety.
Our floors meet the hygiene requirements of the AGF industry
In this industry, the main factors required of the floors to be installed is that they meet hygiene and safety concerns. That is why the Ruys Groep's specialty floors contribute to the safety requirements legally obliged within the food industry. These floors are approved and conform to HACCP, USDDA, EEC directives and BCR.
The sectors that our floors are suitable for
The floors for the AGF industry are being laid in various types of companies producing:
Potatoes;
Vegetables;
Fruits.
The most laid floors in the AGF industry
References in the AGF industry