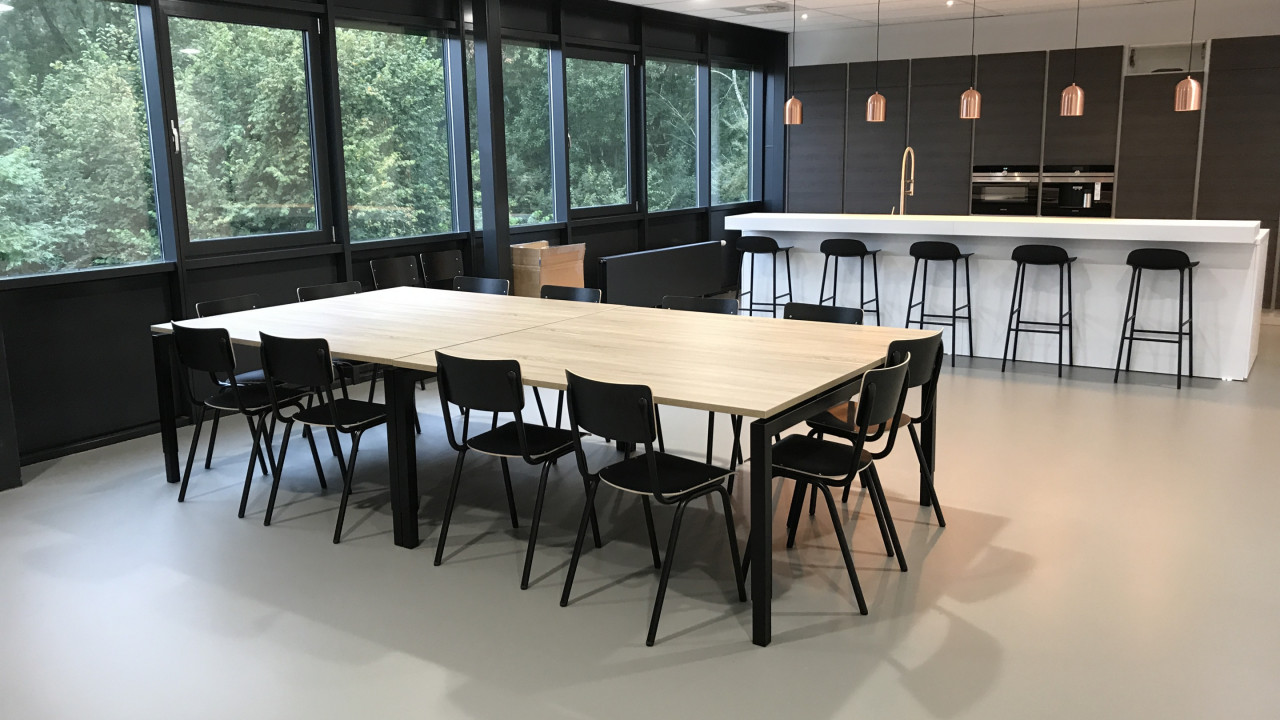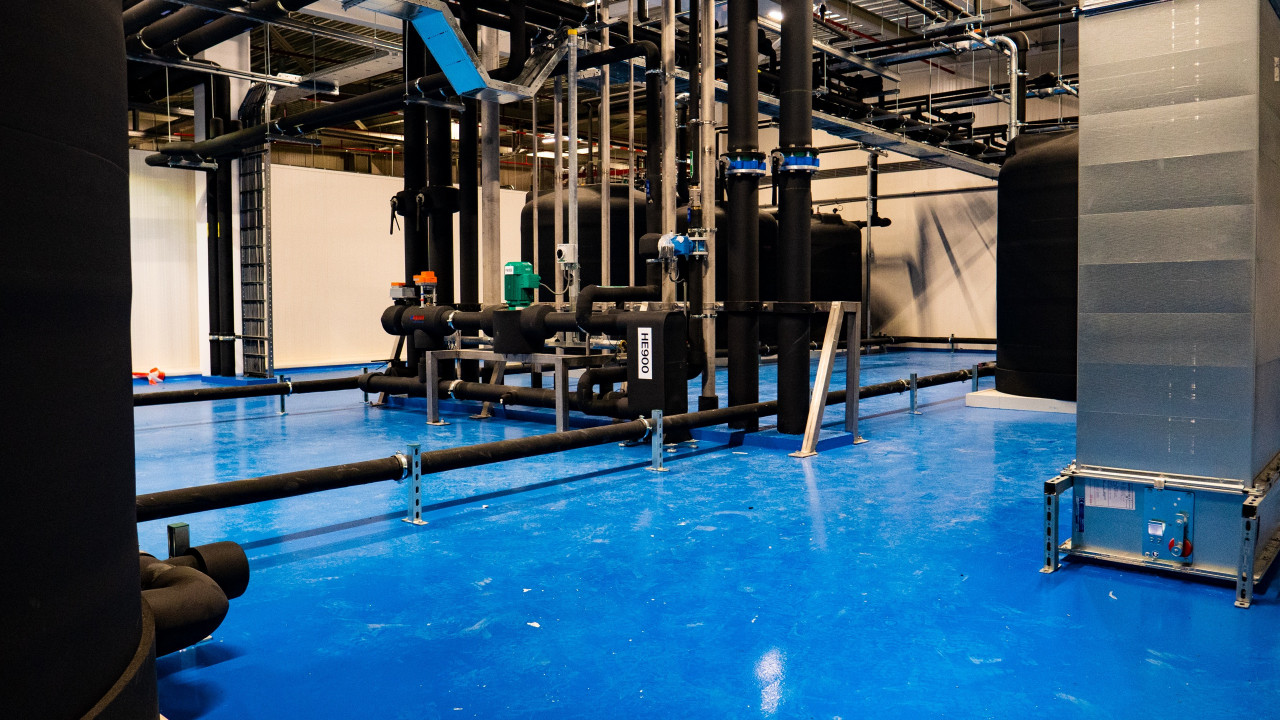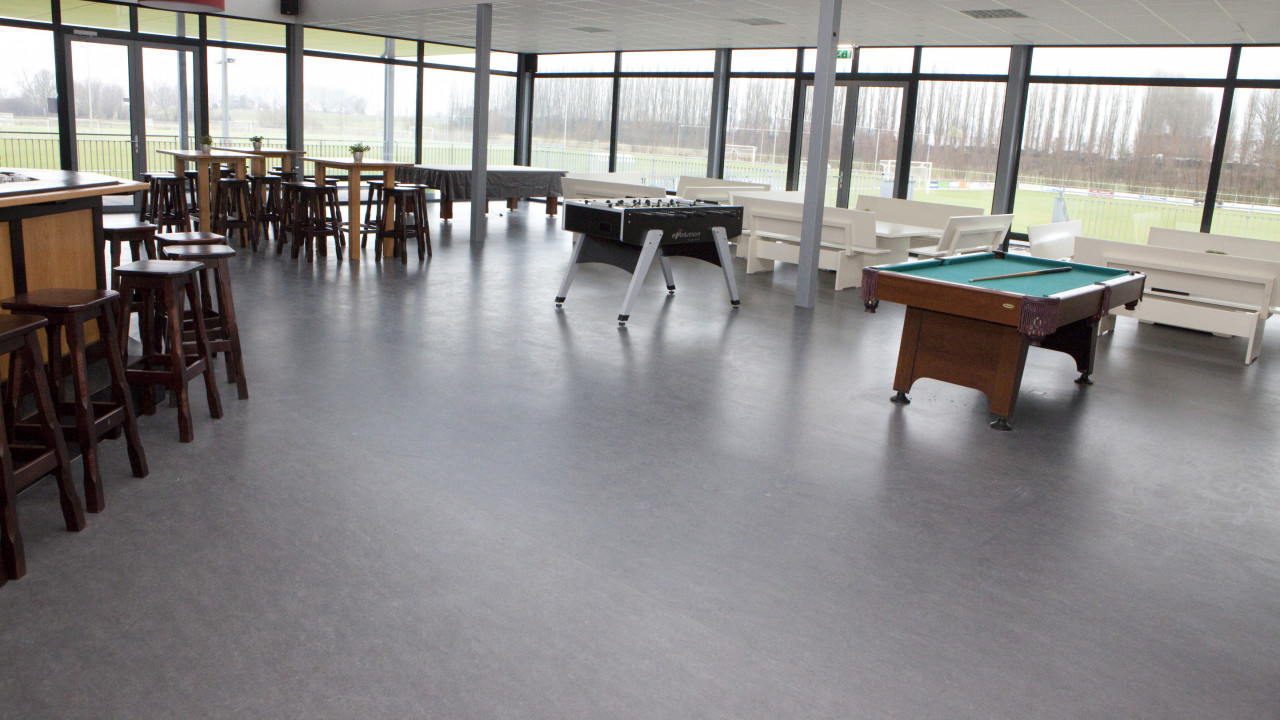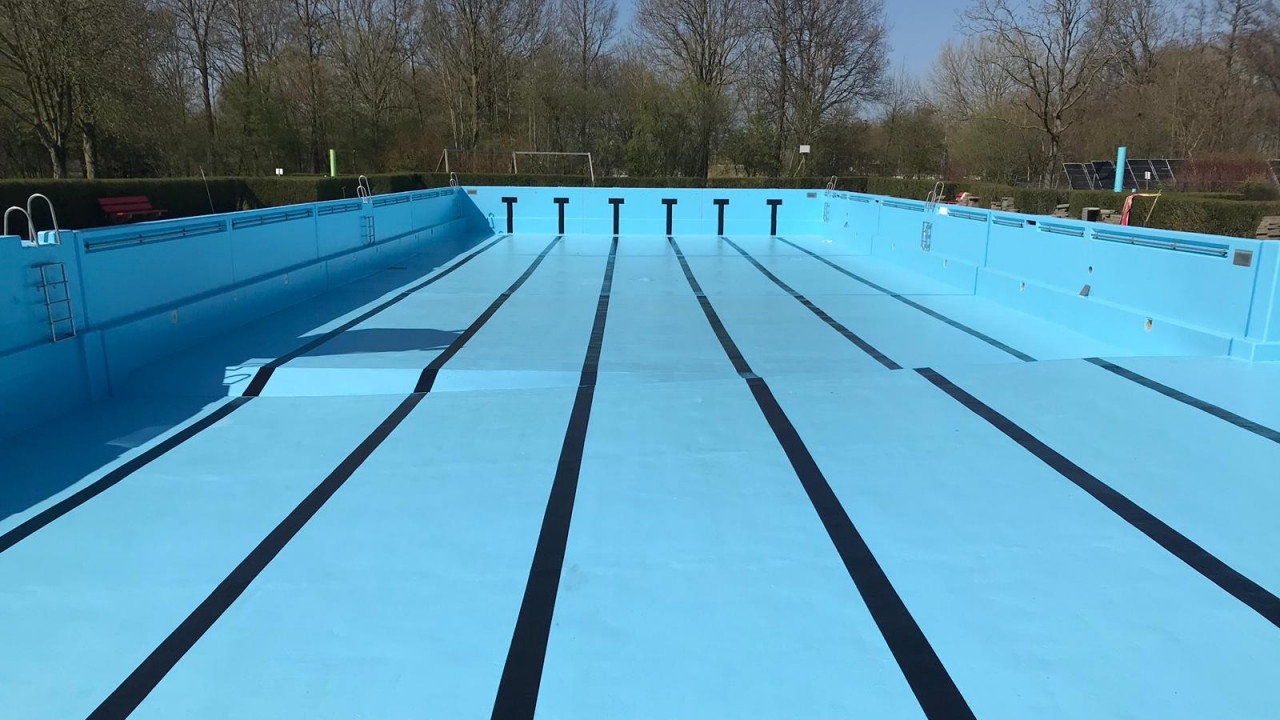 De Bedrijfsvloer
The specialist in esthetic synthetic industrial/commercial floors.
The specialization of De Bedrijfsvloer
(Esthetic) synthetic flooring
Synthetic commercial flooring for your business, public sector or industry. De Bedrijfsvloer is a part of the Ruys Group and has been working in the field of floor finishes for the commercial market for more than 20 years.
Specialization
De Bedrijfsvloer specialists focus on the application of synthetic floors. These floors include resin, trowel and coating floors, which strengthen and support the daily operations of our customers.
Optimization of (production) processes
A commercial floor must support your business operations in terms of efficiency and ease of use and durability, ensuring the continuity of your (production) processes. De Bedrijfsvloer can realize these goals in a broad range of sectors.
Onderzoekende rol
Doormiddel van vooraf onderzoek worden de eisen waar de vloer aan moet voldoen in kaart gebracht, luisteren wij naar de wensen en behoefte van de klant en stellen wij een zo compleet mogelijke analyse op om de juiste vloer op de juist plek te realiseren!
The right company floor
De Bedrijfsvloer specializes in installing (esthetic) synthetic floors in a wide variety of industries. Before we recommend a floor, we ascertain what the expected load or stress on the floor will be; what the (production) area will be used for; what processes will take place on the floor; and what the approximate budget will be. These are examples of questions we ask our customers upfront in order to optimize our analysis. De Bedrijfsvloer' s synthetic floors can be applied in both smooth and anti-skid versions and in countless colors for the desired esthetic look.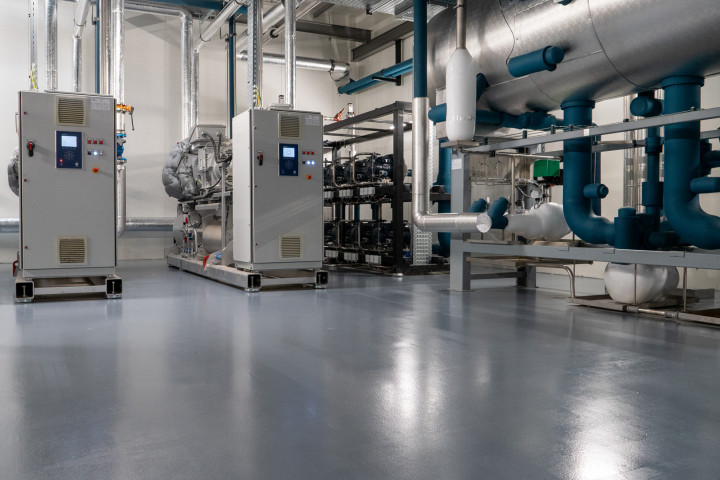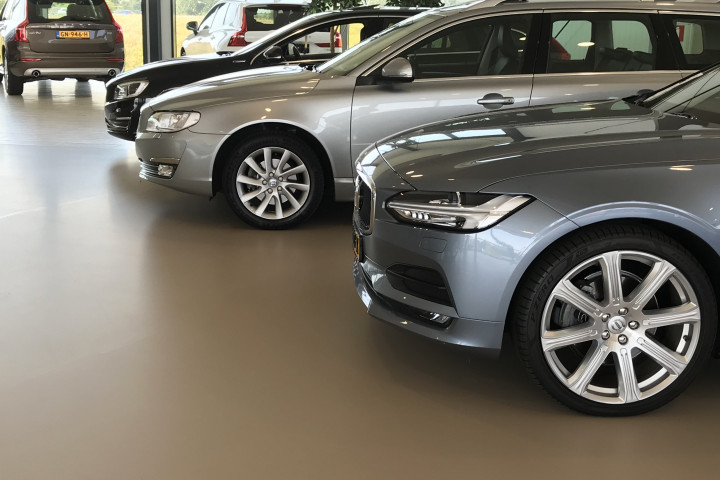 The synthetic floor in various sectors
(Car) garages: de Bedrijfsvloer provides garage floors that are resistant to oil, petrol and plasticizers from car tires. The special coating incorporated into the floors ensures that the synthetic floor offers sufficient protection against these liquids.
Parking garages: the floor in parking garages must be extremely strong, since it is subjected to considerable stress from turning wheels, accelerating and braking, and plasticizers from tires, de-icing salt and oil. We have been installing industrial flooring in this sector for more than 20 years and can, if desired, provide all the necessary markings and signs on the floor.
Printing companies: the industrial floor in a printing company often has to deal with chemical stresses due to the oils, fats and grease that end up on the floor. In addition, the floor must be anti-slip and easy to clean for the safety of the employees. A liquid-resistant floor is also often a requirement. We have already established many collaborations with leading customers in this industry.
Schools: in schools, esthetics and the appearance of the floor play an important role and the floor must be able to withstand a lot of foot traffic and be easy to clean. Both the EP (epoxy) and PU (polyurethane) resin floors are very suitable for schools, because they are available in virtually every color and can withstand a lot of foot traffic.
Offices: apart from pedestrian and small-rolling traffic, there is little stress placed on company floors for offices. However, an esthetic floor is extremely important in this case. With endless possibilities in terms of colors and color combinations offered by de Bedrijfsvloer, our customers can design a resin floor that perfectly projects their overall image.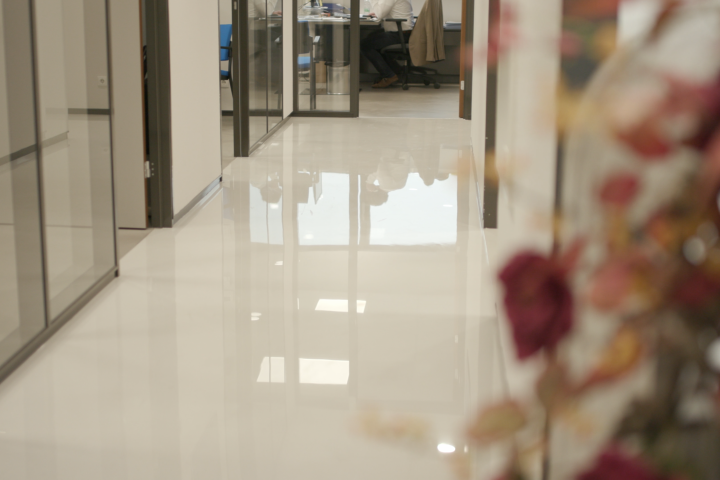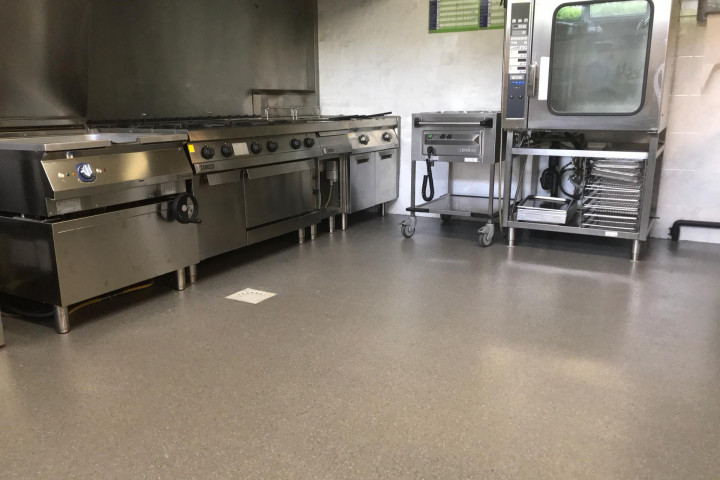 Hospitality: A restaurant's dining area, prep area and kitchens require completely different floors. That is why de Bedrijfsvloer offers the possibility of combining these floors. In the hospitality industry, food safety is extremely important. That is why we can offer alongside our floors the appropriate wall protection and drainage, so that our floors meet the HACCP requirements and other health laws and regulations.
Recreation: this category includes, among others, cafeterias, changing rooms, gyms or sanitary areas. In all these cases, we can provide the most suitable floor that is, for example, wear-resistant, anti-slip, flexible and/or esthetic.
Industry: With its array of synthetic floors and coatings, de Bedrijfsvloer can provide a synthetic floor for many types of commercial spaces, such as a dust-free floor finish for the logistics sector or a technical area. Or, de Bedrijfsvloer can work with customers to realize esthetic embellishments for transport corridors and company cafeterias. We are well versed in floor applications for numerous industries.
Stores: a PU resin floor application is very suitable in stores, because it is a real eye-catcher, easy to maintain and competitively priced. Customers have a wide choice of colors, can add flakes, or create a concrete-look floor.
Hospital floors: The load or stress on the floor in a hospital is fairly light, as it mainly comprises light-rolling and foot traffic. A low-noise and hygienic floor are the main elements when considering the appropriate floor for a hospital. Bacteria must be stopped from endangering the safety of staff and patients. De Bedrijfsvloer' s floors can meet all these requirements.
De Bedrijfsvloer' s offering of synthetic floors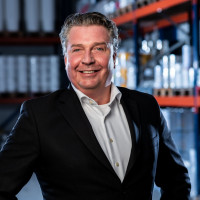 Contact us
Request a free consultation or receive more information.
Hein Steeman, general manager De Bedrijfsvloer