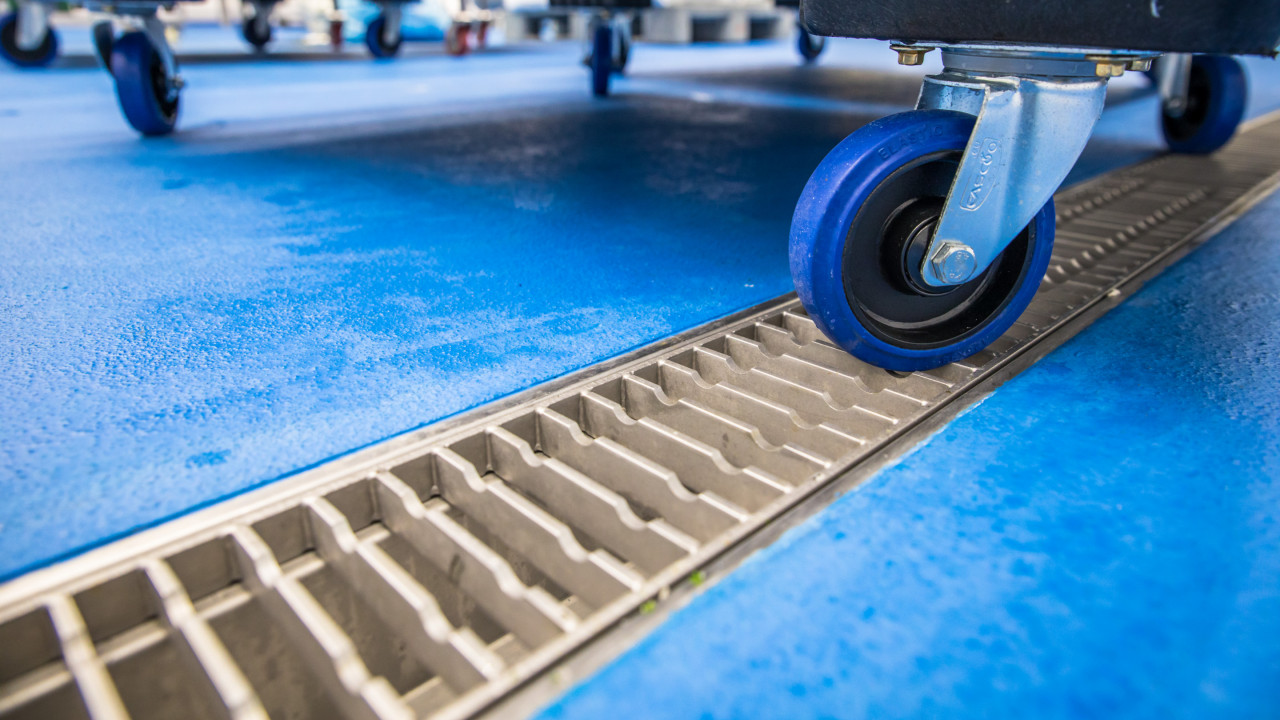 Stainless Steel Drainage Systems
In addition to providing high-quality industrial floors and stainless steel bump curbs, the Ruys Group is a recognized expert in the supply and professional installation of stainless steel drainage systems.
Drains and Gutters
Drainage is indispensable in almost every industry, as it is an important condition for good hygiene. When a drainage system is not properly designed and maintained, bacteria can grow undisturbed. Water flow capacity, waste products collection, waste water drainage as well as other factors are essential elements for preventing contamination and effectively contribute to health and safety requirements. The Ruys Groep specializes in installing non-slip and food-safe floors for various industries and can provide you with stainless steel drainage systems specifically suited to your business processes.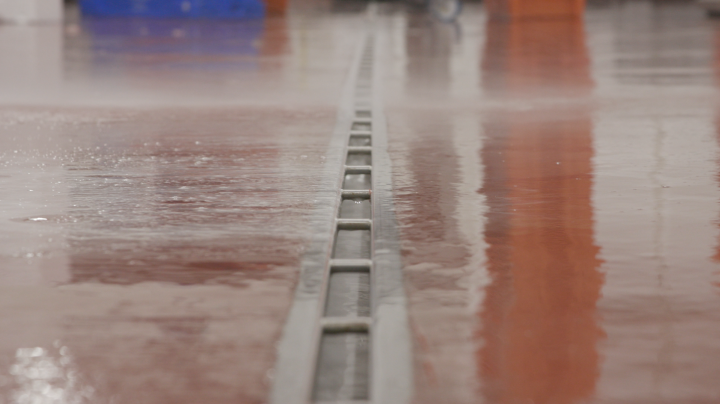 The expert in drains and gutters
The Ruys Group drainage systems are approved by the EHEDG (European Hygienic Engineering & Design Group) and are suitable for installation in a wide variety of situations.

Before advising on which drainage system is most appropriate for your business processes, we first determine the amount of water to be disposed of within a set timeframe. Based on this, the necessary capacity of the drain's water trap is determined. We can then advise you on the best drainage system to install. Hereby, it is good to know that adjusting the dimensions of the gutters is often not useful, because this will not allow more water to drain away. Placing an extra (large) drain often solves the drainage problem.

After determining the amount of water to be drained, the product waste to be disposed of is examined. This determines the best type of grating to be used: slot, mesh, ladder or molded gratings. These grates vary in degree of anti-slip and drainage capacity.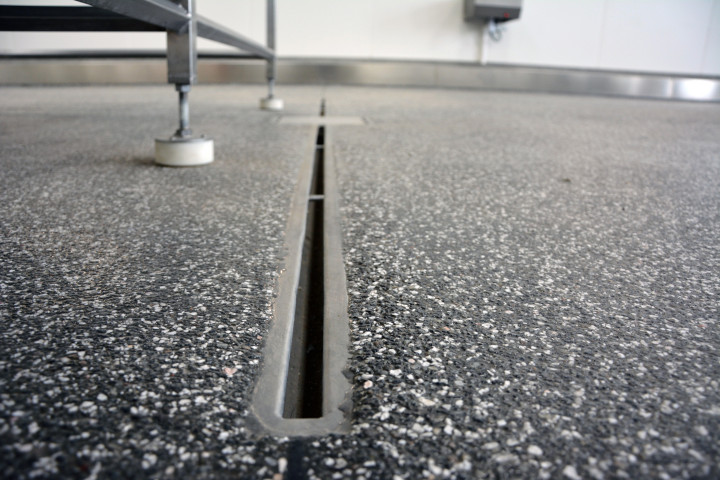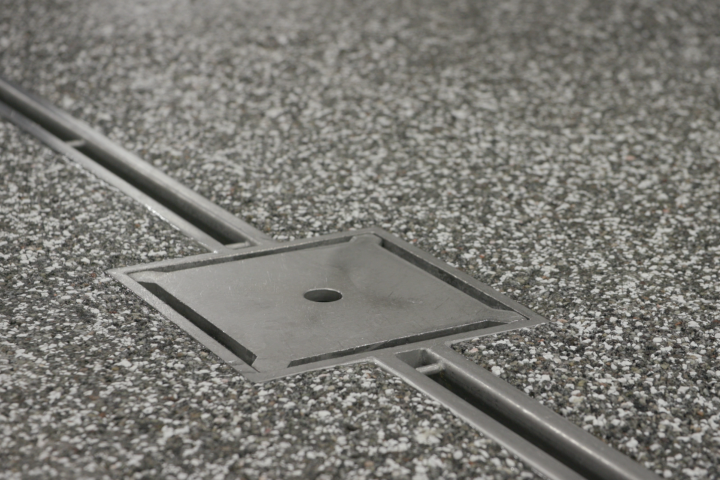 The components of the stainless steel floor drainage systems
Since an exceptionally hygienic environment is extremely important for companies operating in diverse industries, amongst these in the food processing industry, our stainless steel drains and gutters possess various elements to ensure that these requirements are met. The Ruys Group drainage system is designed to prevent standing water and thus the growth of bacteria. This avoids the risk of food contamination and the efficient and safe discharge of both production and cleaning water.
A drain's filter basket ensures that waste is separated from water.
The trap prevents unpleasant odors from the sewage system and is easy to clean.
The reinforced PU edges ensure hygiene by preventing cracks or seams. These PU-filled edges also ensure that there is a seamless finish between the stainless steel drain and the floor, preventing dirt or bacteria from accumulating. This has the added advantage of not having hidden holes, thus avoiding the risk of deformations of the edges and cracks in the floor.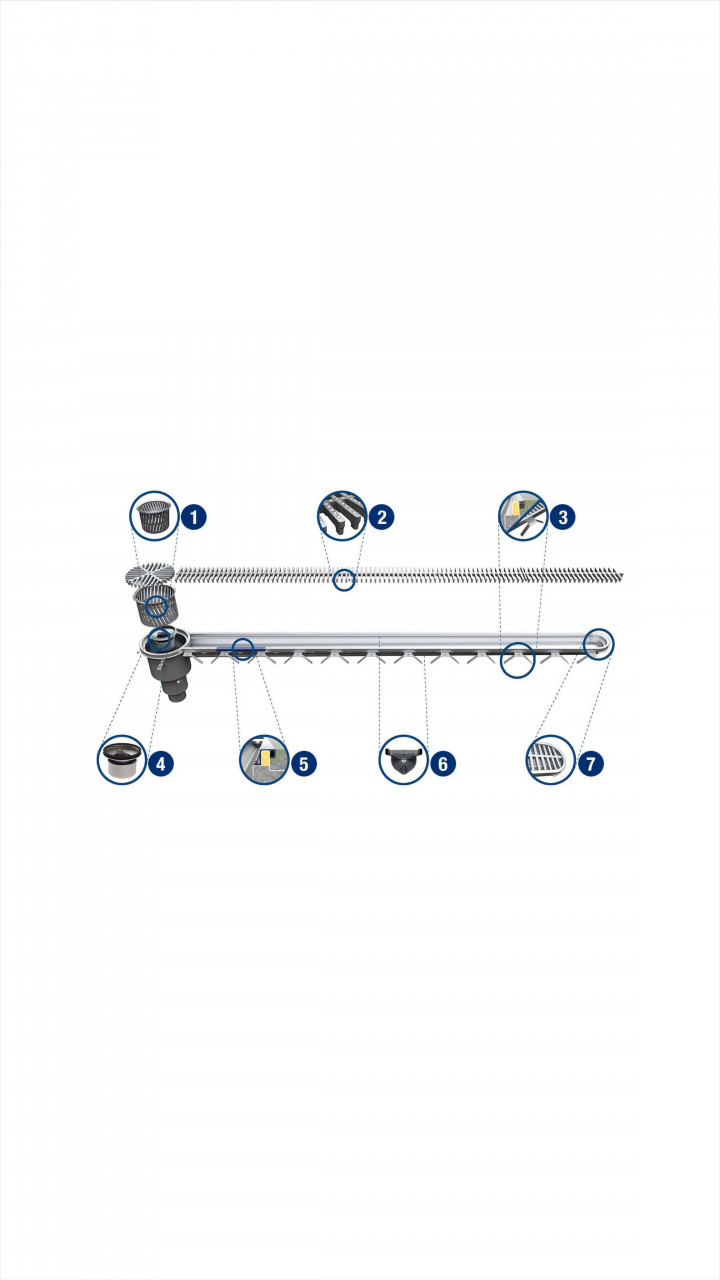 The more hygienic, the better.
Reduced production downtime.
Easy and efficient floor cleaning.
Safe and durable adhesion to the floor.
Quick and easy drainage.
Neat and safe installation.
Efficient flow.
Hygienic floor concept.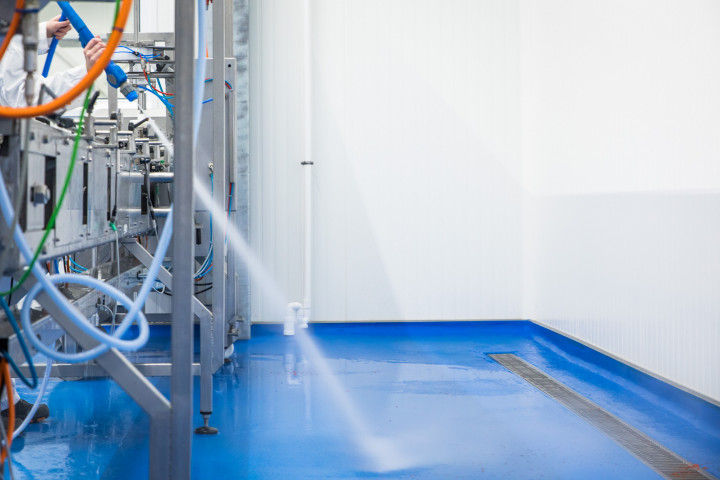 Drains and gutters in the food processing industry
In the food processing industry, as well as in other industries, optimal drainage is essential for preventing potential contamination and contributes to a hygienic work environment. However, several elements present in the food processing industry in particular make it harder to escape potential hazardous conditions. Examples of such elements are temperature differences, fluids, waste residues, offal, proteins, waste water, acids, and pulp and fats released during the production process.
The production floor is intensively cleaned daily, making a good drainage system essential for efficiently and safely disposing of not only production water but also cleaning water. Therefore, one of our suppliers, Blücher, offers self-cleaning drains and gutters as part of their floor drainage system, inhibiting the growth of bacteria. Moreover, the gratings are open on the sides, preventing debris from remaining on the floor, and the gratings' rounded corners prevent accumulation of dirt or bacteria.
Where we have successfully provided drainage systems